Kintsugi pottery is a beautiful reflection of triumph over hardships, and a symbol of how beautiful we become by embracing and celebrating our past.
Kintsugi (also known as Kintsukuroi) is the Japanese art of repairing broken pottery with gold or silver, with the understanding that the piece is not damaged, but is – in fact – more beautiful for having been broken.
It is a beautiful analogy for resilience and perseverance, as these flaws are seen as a unique part of the object's history which adds to its overall beauty.
Kintsugi is well known for the ceramic vessels used for chanoyu (Japanese tea ceremony). It is believed by some that kintsugi originated in the late 15th century when Japanese shōgun Ashikaga Yoshimasa sent a damaged Chinese tea bowl back to China for repairs. The original repair was considered to be so unsightly, that Japanese craftsmen decided to look for a more aesthetically pleasing means of repair.
Collectors became so enamored with this new art, and some were even accused of deliberately smashing valuable pottery so it could be repaired with the gold seams of kintsugi.
According to many, the imperfect beauty of Kintsugi is considered inspirational and Zen-like, as it reinforced the fact that there is beauty in broken things.
I love the concept behind this because at times we all feel broken. But it's our ability to rebuild and repair ourselves… sometimes with the help of others… that makes us into the beautiful people we are today.
There are very few places where scars are seen as enhancing the beauty of the original object, but Kintsugi pottery is one of those. As such, it honors the things that have damaged us in the past, but which we have overcome.
This Japanese art is a perfect reflection of that process, both metaphorically and literally.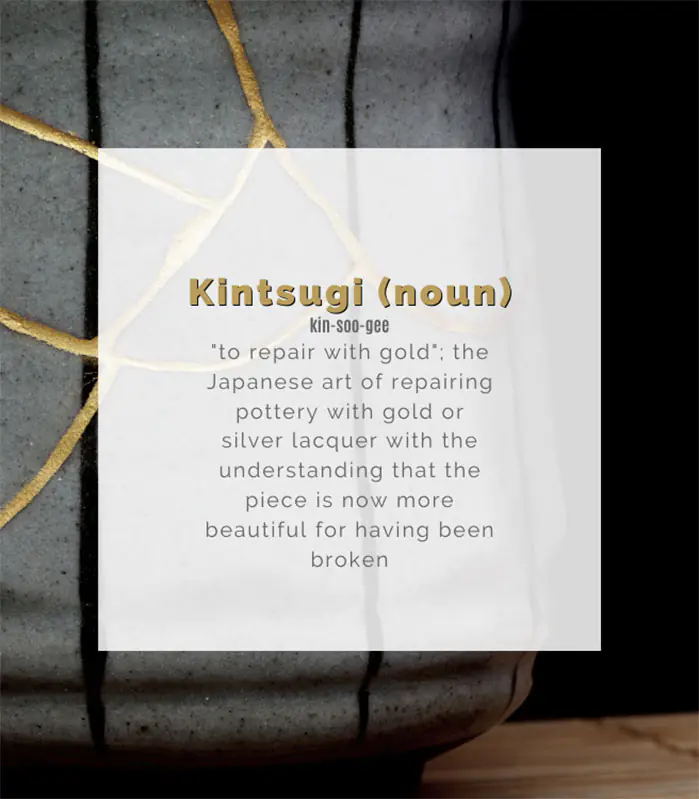 That is one of the reasons that I find Kintsugi pottery to be so beautiful. And when I discovered that our retail partners at Etsy carried a wide and wonderful variety of Kintsugi pottery, I couldn't help but create a collection to feature these magnificent works of art.
Please note that I am an affiliate of Etsy, so I may receive a small referral fee should you purchase any of these beautiful pieces from these artisans. However, all opinions are my own.
There are so many marvelous ways to enjoy the Japanese art of Kintsugi. From decorative plates and bowls to lovely pieces of jewelry that you can use to symbolize how much you have overcome.
Each piece is truly unique, as nobody – and nothing – every breaks the same way. Plus, the delicate craft of repair creates a wonderfully unique piece that can never be duplicated… much like you!
Beautiful Kintsugi Pottery
These lovely pieces would make a beautiful addition to your own home or a touching and meaningful gift for someone very special in your life.
From Kintsugi bowls to jewelry to plates and more, there is a piece of Kintsugi to reflect you, you personal journey, and your personal style.
Empty Blue Decorative Kintsugi Bowl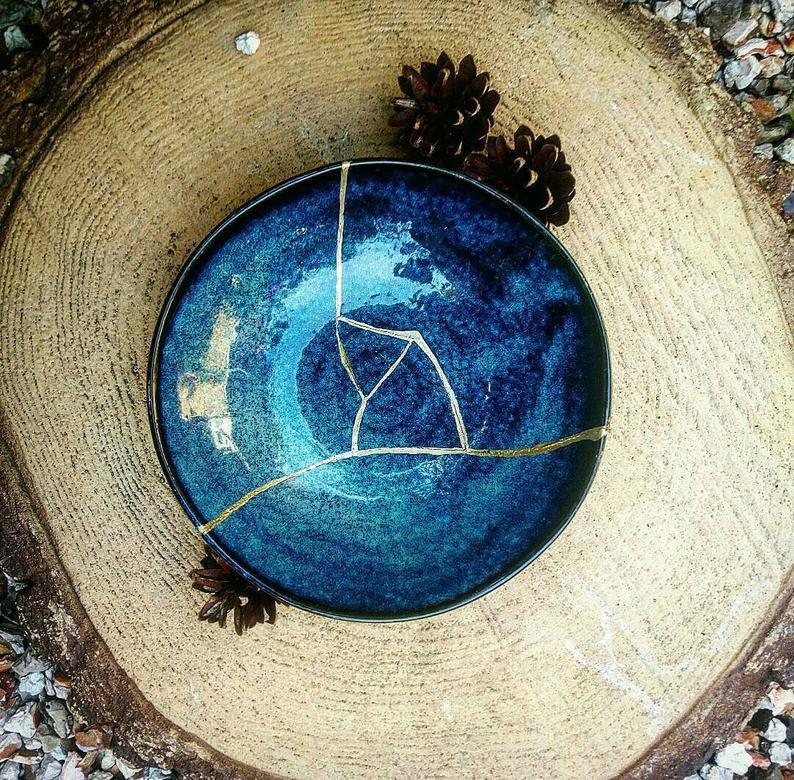 A beautiful and vibrant piece that brings together the shimmering blue of the original pottery with the gold Kintsugi embellishments.
---
Black & Gold Kintsugi Omnipotence Bowl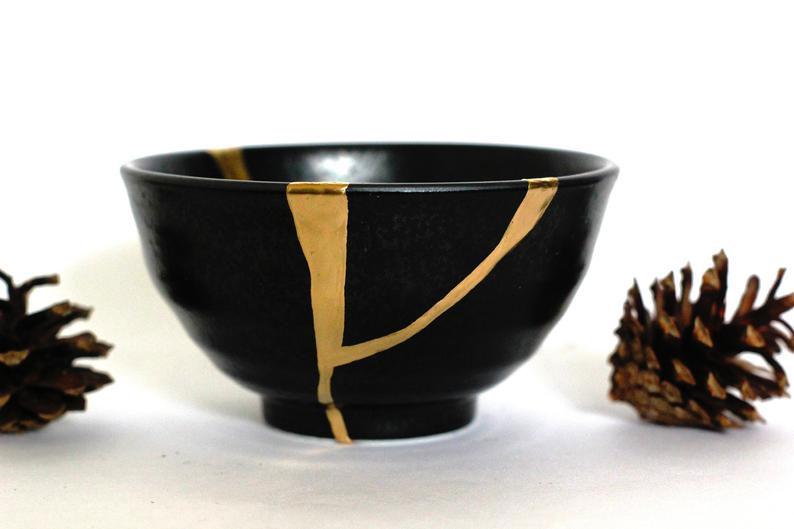 This handcrafted Kintsugi bowl is both elegant and dramatic due to the contrasting black pottery and the gold repair lines.
---
Dark Waves Kintsugi Plate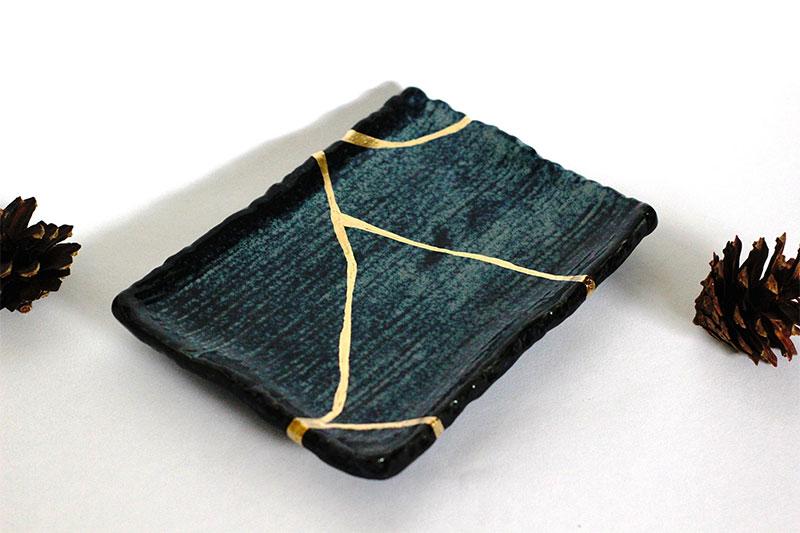 A delightful little plate with a strong visual appeal, this 4.5″ by 6.5″ plate is perfect for adding a touch of fractured beauty to your home.
---
Kintsugi Broken Heart Pendant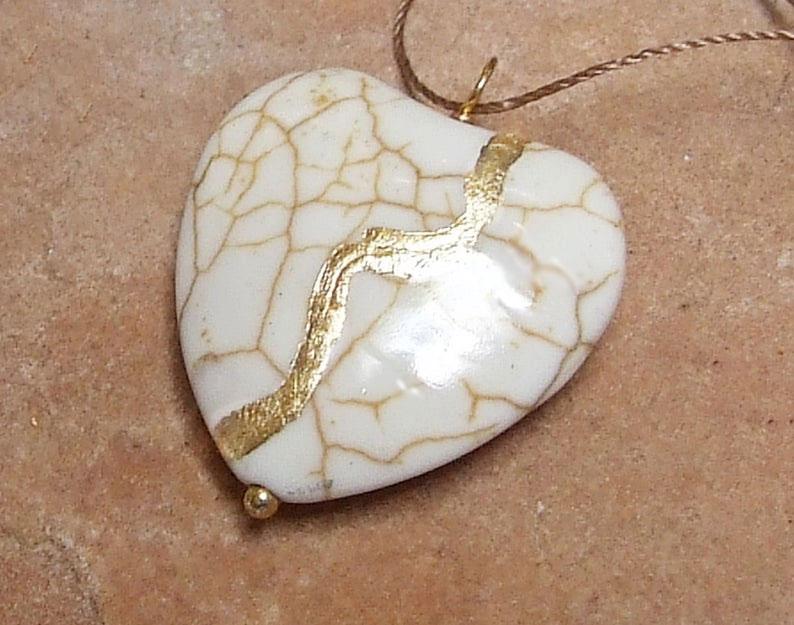 Bowls and plates aren't the only items that can be used to explore the beauty of Kintsugi pottery. This broken heart neacklace is a wonderful way to carry the fractured beauty of Kintsugi with you wherever you go.
---
Blue Kintsugi Bowl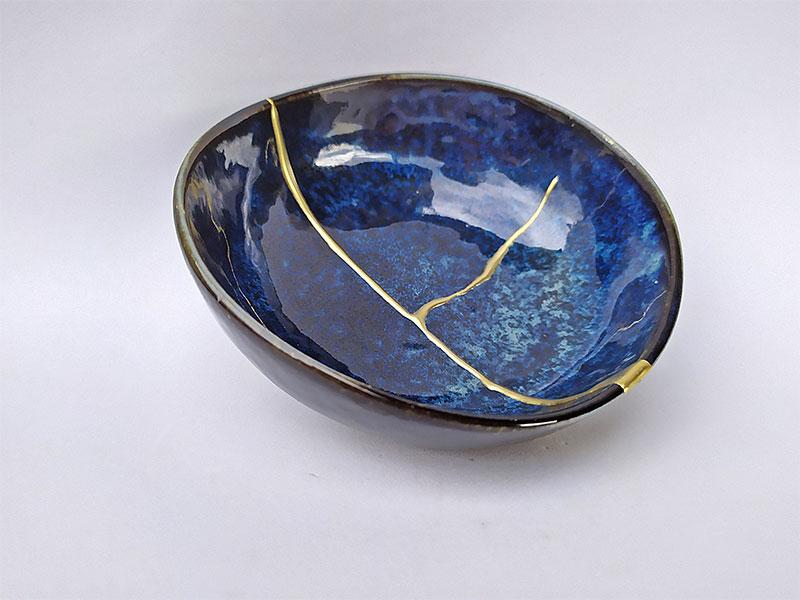 A beautiful and unique piece that has been broken and repaired with this wonderful technique and philosophy Kintsugi Kintsukuroi
As each piece is unique, the breaks and repairs will be different with each piece.
---
High Bohemia Kintsugi Bowl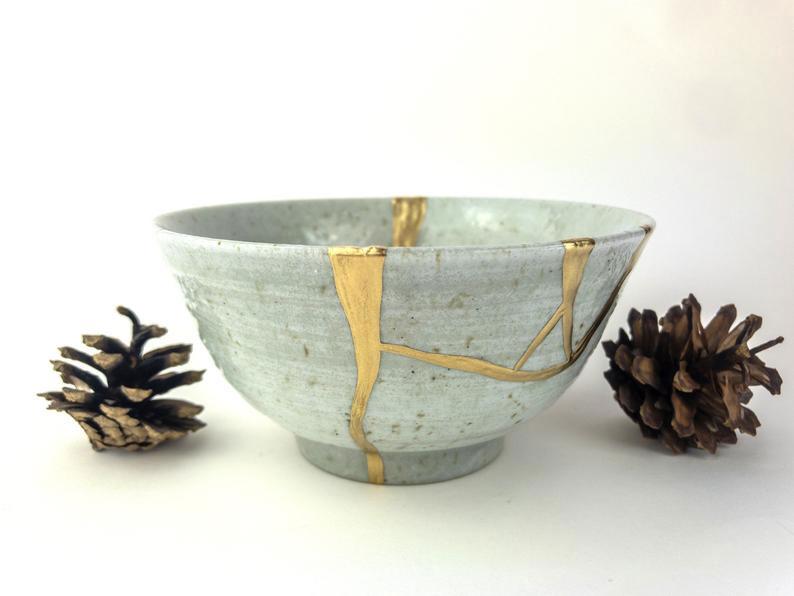 This understated but lovely piece of ceramic artwork includes a beautiful A4 poster card about the story of Kintsugi and how its use to inspire others
---
Kintsugi Iron & Gold Wedding Rings
A gorgeous symbol of broken hearts who have found each other and healed together, these Kintsugi wedding rings are hand-crafted out of iron & gold to create a striking and unique wedding band set.
---
Red Pomegranate Kintsugi Pottery Vase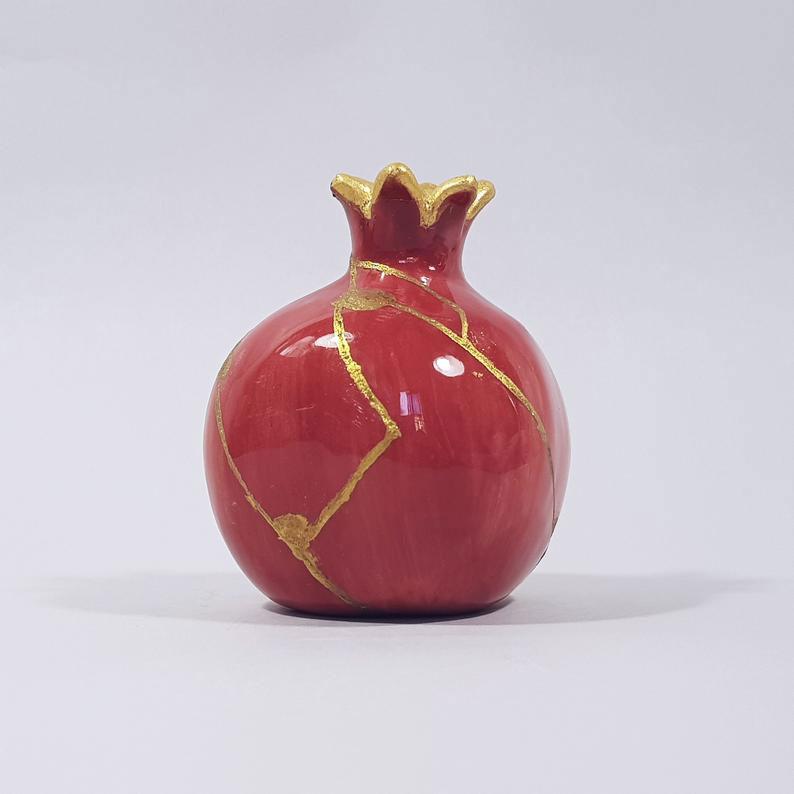 A Kintsugi repaired ceramic pomegranate vase in red and some 24K gold.
The repair is done in the traditional Japanese way, using traditional Japanese techniques and materials. The process of gluing, applying the different lacquers and drying under controlled humidity and temperature conditions takes about a month.
---
Kintsugi Heart Stud Earrings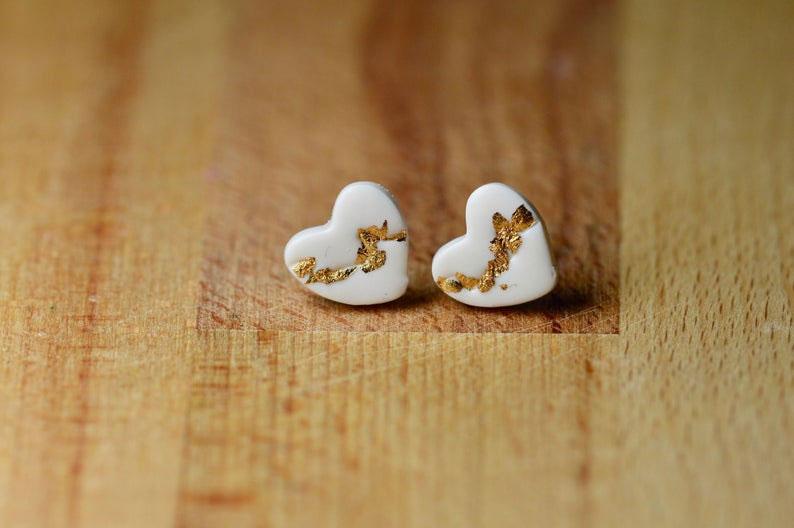 Some people wear their hearts on their sleeves, but you can wear your broken but repaired Kintsugi heart on your ears with these lovely little white and gold heart earrings.
---
Painted Flowers Kintsugi Pottery Bowl
The traditional Kintsugi process is augmented with some hand-painted pretty pink & white blossoms to add an additional layer of loveliness to this beautiful bowl.
---
Natsu Collection Kintsugi Bowl
A beautiful and unique piece from the new "Natsu" collection, this delicate piece of pottery is beautifully repaired with beautiful veins of gold.
---
I Am Whole Necklace White Gold Kintsugi Necklace
In the Japanese art of Kintsugi, broken pottery is bound back together with gold. Similarly, life can shatter us and leave us feeling damaged and less than, when in reality, the transformation and healing back together can lead to the best version of ourselves. You are not broken. You are beautifully whole.
This lovely little necklace features a puffed oval, gold-drizzled, white acrylic bead (so each will be unique) on extra dainty matte gold plated chain that closes with a lobster clasp.
---
Scorpio Kintsugi Plate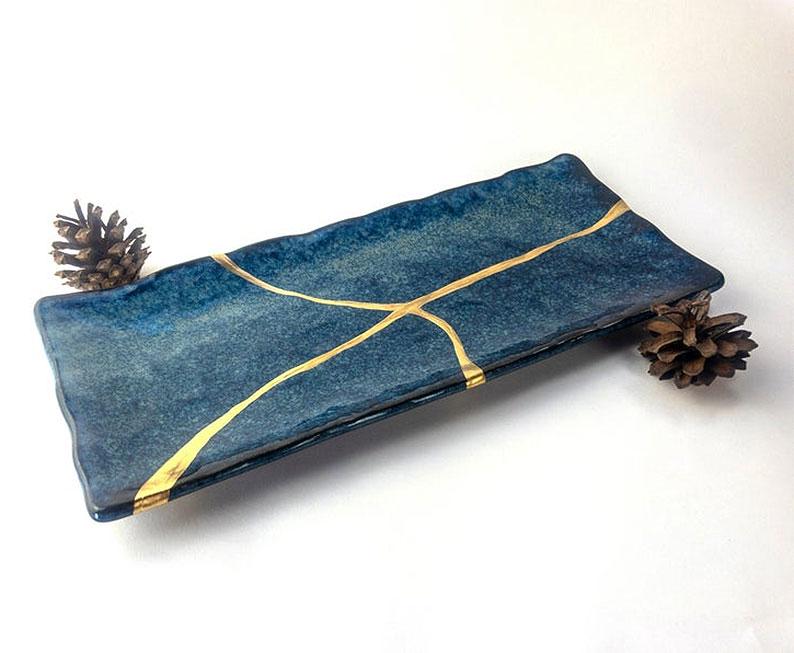 This 5 x 11 plate makes a dramatic yet elegant statement. The Kintsugi process on this piece creates dynamic veins the crisscross near the middle of this stunning piece of Kintsugi pottery.
---
Large Blue Bronze Kintsugi Display Bowl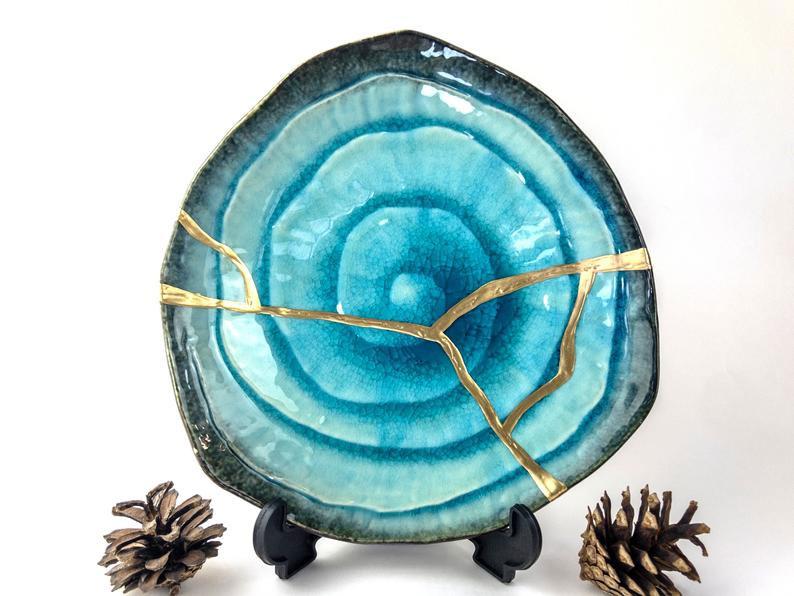 At nearly 8″ in diameter, this striking piece would make for a unique and beautiful display!
---
Kintsugi Black Onyx Pendant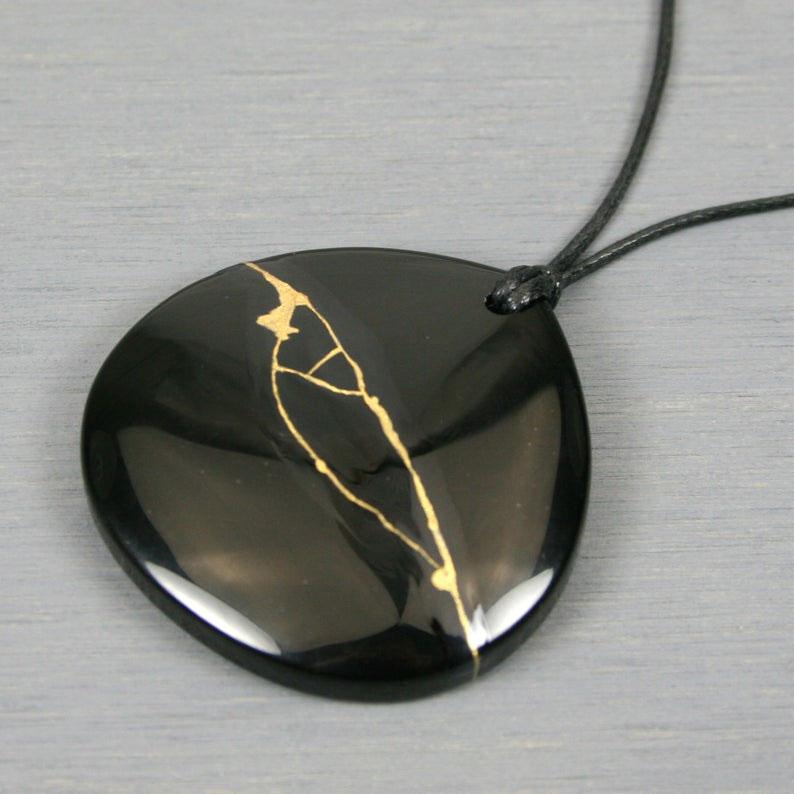 This black onyx stone has been broken and repaired using a modern form of Kintsugi with powdered gold mica, gold paint, and epoxy paste. The repairs have been sealed with a clear acrylic sealant to protect them. This piece is designed to symbolize the way that the healing of the broken places in our lives leaves greater beauty in its wake.
---
The Unique Beauty of Kintsugi Pottery
Because of the process, both in the original break and the repair, each piece of Kintsugi pottery is truly one-of-a-kind.
However, it is important to note that most of these are for decorative purposes only and should not be used to prepare or serve food.
We hope you have enjoyed this beautiful collection of Kintsugi pottery.
To continue looking at these gorgeous pieces, hop on over to Etsy to view the complete collection.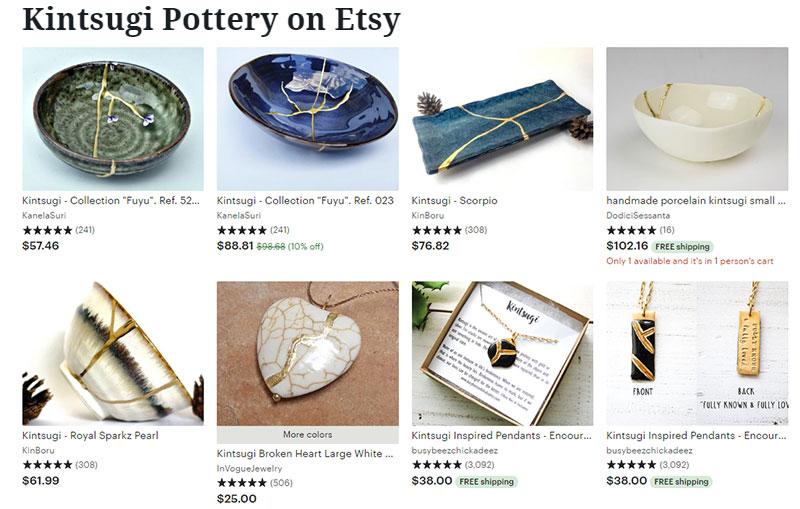 What do you think of these lovely pieces of Kintsugi? Do they speak to you the way they speak to me? I'd love to hear your thoughts in the comments below!