Well-water storage tanks are essential in off-grid or remote living. Read our tips on how to customize your storage tanks to reflect your personal style.
A well-water system is a crucial asset in off-grid or remote living, and a storage tank is a stark reminder of this utility in the home. However, a storage tank can stick out like a sore thumb if it's not buried underground. That's why homeowners who don't want to compromise their curb appeal look for ways to install their tank into their yard as aesthetically as possible.
Fortunately, there are design tactics that can help create visual interest around even a nondescript storage tank in your yard. This article will explore the different ways you can transform your tanks to achieve harmony between utility and personal style.
Choose a color and design
Most well water storage tanks have grooved cylindrical and rectangular designs. They are also mostly available in neutral colors—white, brown, gray, and black. Some come in blue, red, and green. While there is only a limited color and design range you can choose from, the neutral and earth colors can make it easy for you to blend it with the overall aesthetic of your home.
When choosing a color, the most important consideration is the local climate. If you live in a hot region, a lighter color is a better choice because it absorbs less heat than darker colors, so it can keep your water cool for as long as possible. Darker colors are perfect for cold regions because they help to slow down the water-freezing process.
Add artworks and murals
Artworks and murals are exceptional ways to breathe life into an uninteresting water tank. This creative element can also help make the water tank the focal point of a space.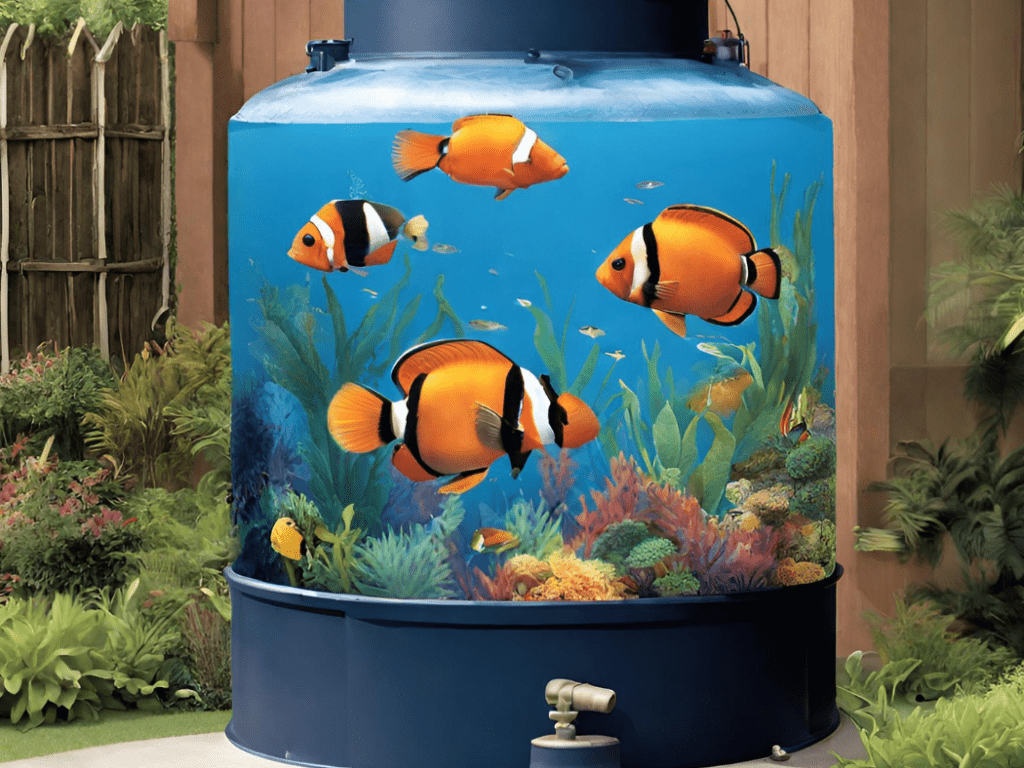 When choosing a piece of artwork or mural design, go with something that you love and fits the motif of your home. To find the right location for your artwork—be it a painting, wood carving, or sculpture—choose a position where it can be easily seen.
Although a yard is an open space, avoid placing the artwork in areas exposed to direct sunlight if possible. The sunlight can cause the artwork to deteriorate or the mural paint to fade or peel off prematurely. You should also apply a suitable protective coating to preserve the integrity of the artwork or mural.
Consider structural alterations
If you are open to a major revamp of your space to make way for a plain yet imposing structure as a water tank, you can add decorative lattices around it or build a shed.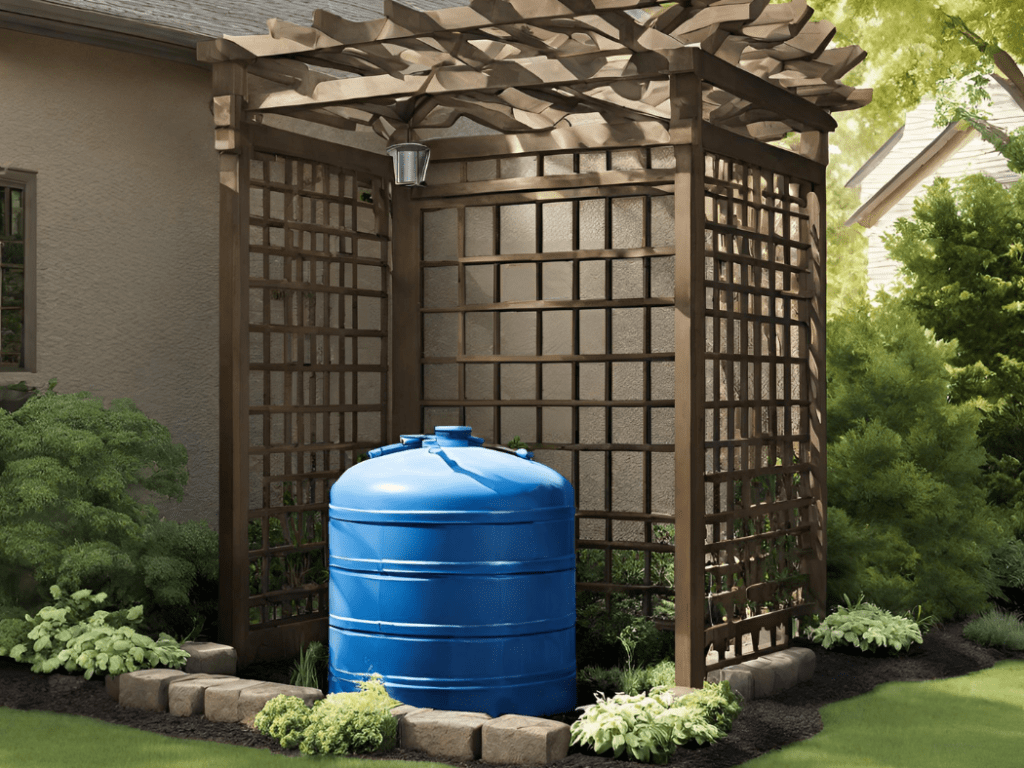 A lattice or shed can help hide any unsightly features, such as valves and pipes. The best part is that these can be made from wood, metal, or plastic, improving the visual interest of the entire space.
Furthermore, you can integrate landscaping around the tank to improve its appearance and make it blend with the surrounding environment. For example, adding rock gardens, water features, or sitting areas can help soften the dullness of a water tank. You can also add climbing vines and plants if they don't make the look over-the-top.
Install lighting
Lighting may be a counterintuitive element next to a water container because it can pose potential safety hazards, such as fire, contamination, and electric shock. However, proper design and installation can be an excellent way to add nighttime appeal to your well-water storage tanks.
To minimize the potential risks, consider using low-voltage and waterproof lights. Install the lights in a spot where they won't be susceptible to water- or weather-related damage. Avoid using lights that produce a lot of heat to mitigate the risk of fire. And be sure to remember to switch off the lights when they are not in use.
The best lights for outdoor use are LED lights. They are energy-efficient and durable. Using lights with a soft glow, you can achieve a beautiful nighttime ambiance in your yard.
You can also integrate motion-sensor lights to add functionality. These lights turn on when they detect movement. Adding outdoor lights to your water tank area will enhance security at home while providing interactive aesthetics.
Place decals and stickers
Unlike painting, stickers and decals are a safe way to add aesthetics to your water tanks. They come in various themes, colors, and designs, giving you the freedom to explore and find what suits your style.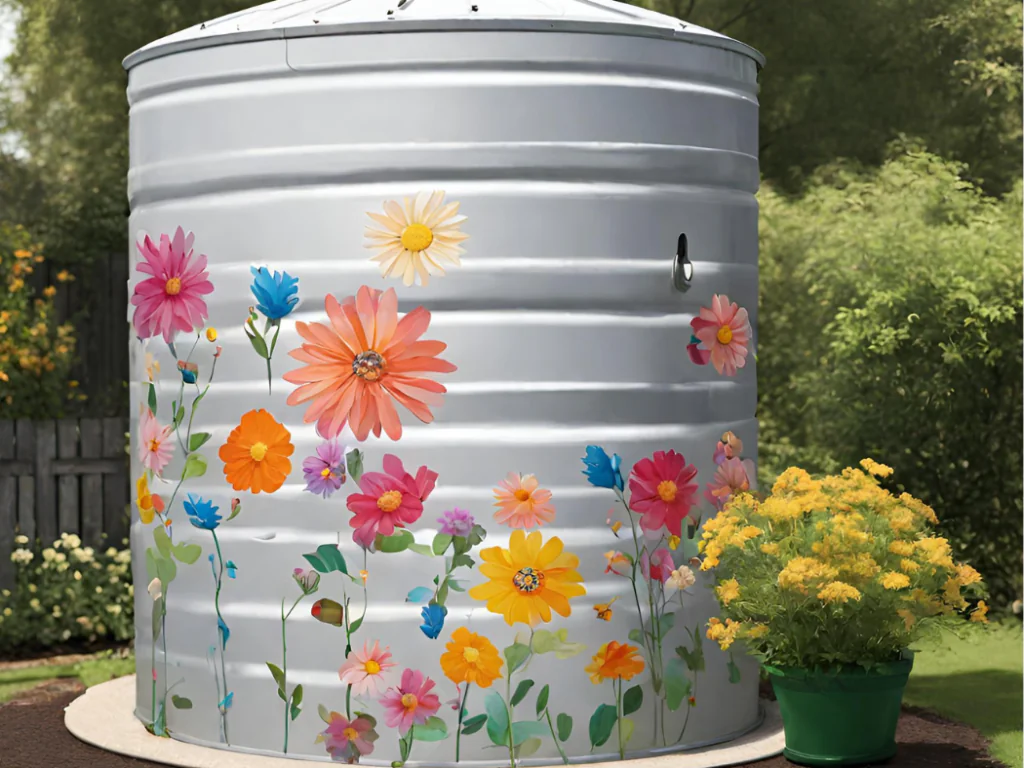 If you're looking for an idea, however, nature or nautical themes are a good choice because they can blend harmoniously with the outdoor environment and complement the essence of a water tank. Nature-themed stickers evoke a feeling of tranquility, while nautical themes such as ocean waves resonate with water fluidity. These themes not only enhance a tank's appearance but also highlight the vital connection between water and nature. They can turn an ordinary tank into an eye-catching display.
Moreover, stickers and decals offer versatility. You can change them seasonally or for special occasions, allowing you to refresh your tank's appearance as desired. Whether it's celebrating holidays, promoting awareness, or simply expressing your creativity, stickers and decals provide a flexible and temporary means of beautifying your water tank while leaving no permanent marks or damage.
Incorporate functional features
Personalizing your well-water storage is not just about adding aesthetics to your tank but also functional features that meet the needs of your home. For example, if your tank is in the garden or needs to pump water to an elevated point, you should have a water pump system for easier access.
Additionally, you can have a water sensor that will monitor the water levels. It will alert you when the water level goes too low or too high to prevent running out of water or overflowing. By adding functional features, you make your water tank more versatile and useful, which can save you money and improve your convenience.
Conclusion
Well-water storage tanks are useful additions to your home or business, as they ensure a more reliable water supply. However, tanks can be an unsightly space-consuming display that can diminish the look of your home. They don't have to stay unharmonious with the rest of your home. By following the tips discussed in this article, you can find a perfect blend between utility and personal style.