These 15 bedroom furniture ideas can help you maximize the space in a small bedroom while maintaining an attractive aesthetic.
Choosing furniture that doesn't fit is one of the common mistakes that makes a bedroom seem smaller than it actually is.
Maximizing each space in your bedroom is the first step in making it cozy and comfortable. You need a place to relax, as well as a space to study and work and to store your clothes and other essentials. One of the ways to do this is to pick the right furniture.
For example, you'd be amazed at what you can do with a well-crafted headboard that can be used to either create the illusion of a headboard or maximize the storage space. Here are just a few examples:
A headboard bookcase combines storage with an attractive look, especially for book lovers.

No room in your tiny bedroom for a proper headboard? Try paining one onto the wall, like this skyline headboard.

A simple and easy to make DIY headboard that gives you extra space to display some treasured items.
That said, here are 15 furniture ideas to make the most of your bedroom space:
Bedside Table With Drawers
An elegant bedside table with drawers can serve as functional bedroom furniture and an art piece in your room. It doubles up as easy-access bedroom storage for things you might need while in bed.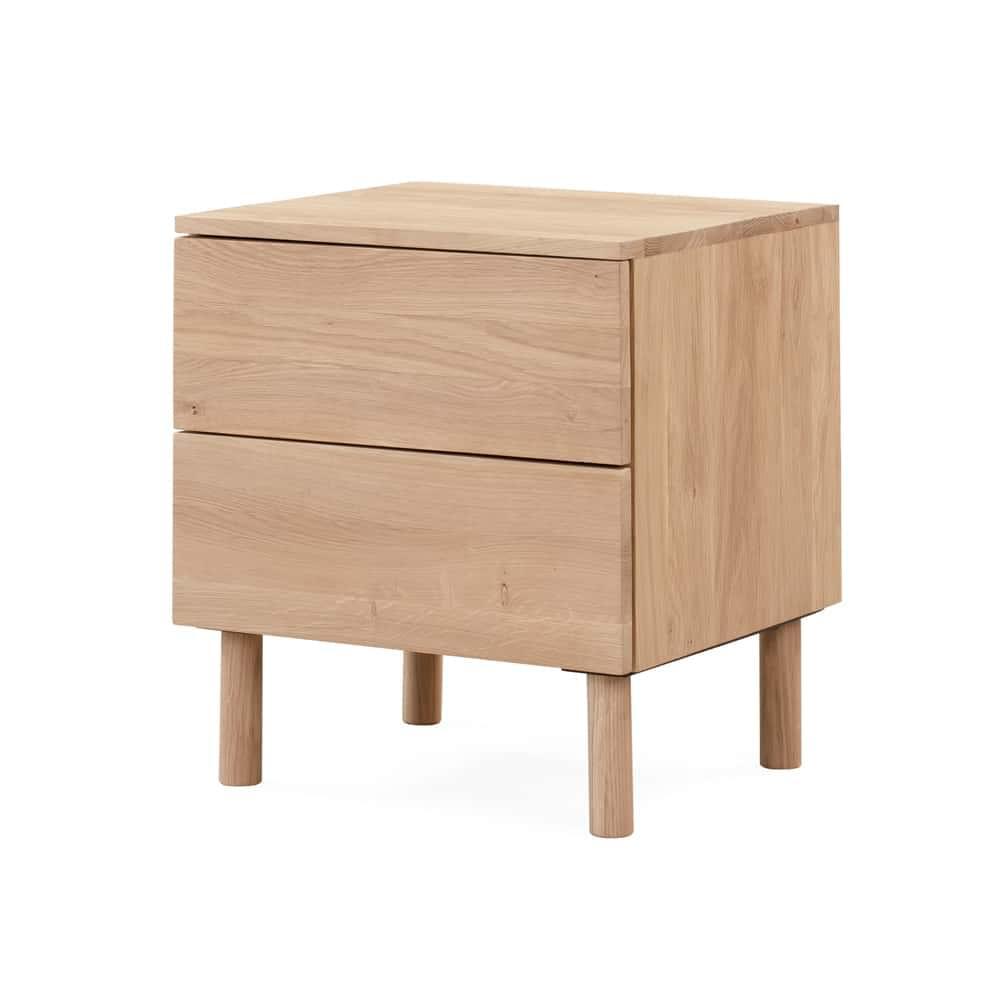 In selecting the bedside table suited for your room, you must first determine the space available. You can select from a variety of exquisite bedside tables available in the market. They can be as narrow, wide, or tall as you prefer.
Wall-Mount Bedside Table
Another smart choice is a wall-mounted bedside table. Since it is hung above the floor, it gives the illusion of wider floor space. Plus, you can adjust its height based on your preference.
Luckily, you can also find ones with drawers or shelves you may use as accessible storage. For easy access, you can keep your diary, pocketbooks, and small electronic devices in drawers. Start hunting online for a high-quality bedside table from a reputable furniture shop.   
The only downside to having a wall-mount bedside table is that you can't easily move it in case you want to rearrange your bedroom. So, before mounting it, finalize your bedroom layout, ideally with the help of an interior designer.
Multifunctional Table
One of the keys to maximizing any space in your home is through the use of multifunctional bedroom furniture. You need pieces that can cater to different activities.
If you are living in a studio, having a multifunctional table in your home is a must. A table that can be used for dining, prepping, and working is a lifesaver.
Similarly, extendable dining tables are also a great solution for flexible spaces. In a studio where sleeping, living, and dining occur in the same space, it's great to have a table that transforms according to your needs.
Floating Corner Shelves
Floating shelves are easily some of the top choices in providing storage without reducing the room's floor space. They're also simple and easy to install.
Installing floating corner shelves is a smart option since you can place them in the least busy space in your room, which ensures safety, especially if you have pets or children.
In addition, corner shelves utilize the walls on both sides to prevent things from falling off easily. The walls also strengthen the load-bearing capacity of the shelves.
Floating corner shelves can be a fun DIY furniture project too. It's easy to customize in terms of color and design, and it can be made to fit the vibe of your bedroom.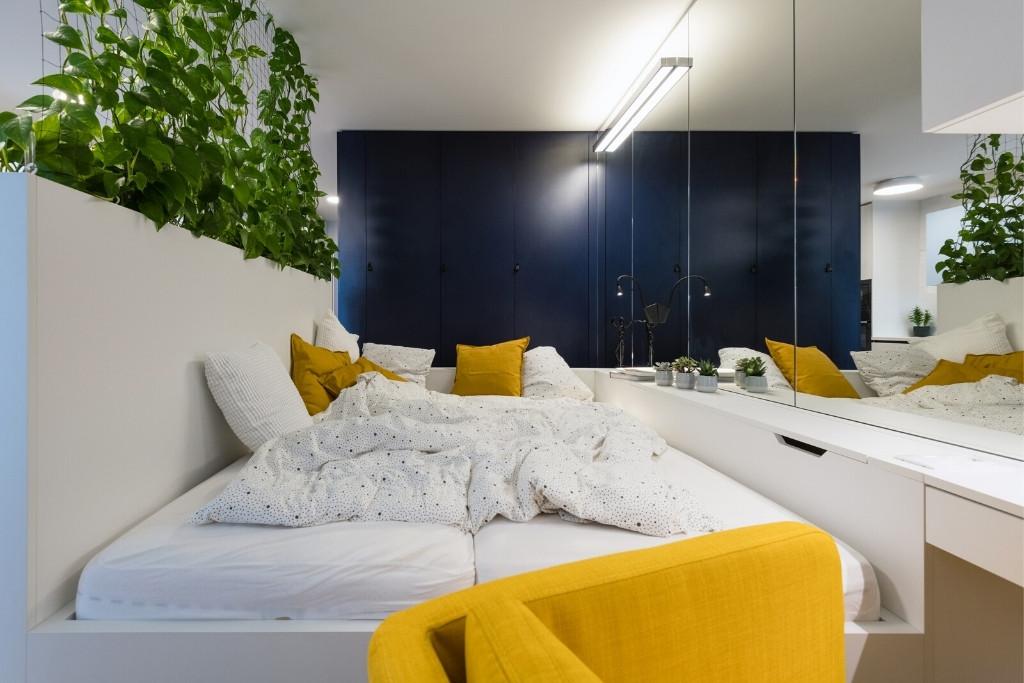 Built-In Platform Bed
The next alternative is a built-in platform bed. Since it is custom-built, you can raise it to your desired height to have more flexible storage space underneath. 
Many built-in platform beds are designed with built-in storage options underneath the bed. They reduce the need for separate storage furniture, thus maximizing space. In some cases, built-in platform beds can be integrated into a wall or alcove. Others incorporate an integrated headboard into their design.
For this project, you may hire a carpenter to craft the intricate details you'd like to add, such as but not limited to a pull-out clothes rack, a fold-down desk, drawers, and cabinets. An expert's skills will also ensure the safety features of this furniture.
Murphy Bed
Also called a fold-down bed, a murphy bed is a great option for those who don't have time to fix their bed every morning. It's also the solution for maximizing tight spaces in tiny houses or studios.
Having a bed that can disappear when needed does not only make your space neat but also more functional. The same space you take up for a good night's sleep can be the same space where you entertain guests and do some home workouts.
A murphy bed even maximizes both the horizontal and vertical space of the room. Both sides of the murphy bed can be a suitable space for built-in cabinetry for additional storage or closet space.
Vertical beds are the most common and fold up from the long side, while horizontal models fold up from the short side. Consider the available wall space and how the mounting style will impact the overall aesthetics and functionality of the room.
Additionally, murphy beds utilize different mechanisms to fold up and down. The most common options are spring-loaded, piston-lift, or counterbalanced systems. Each mechanism has its advantages and considerations, such as ease of use, weight capacity, and noise level. Test the mechanism to ensure it operates smoothly and securely.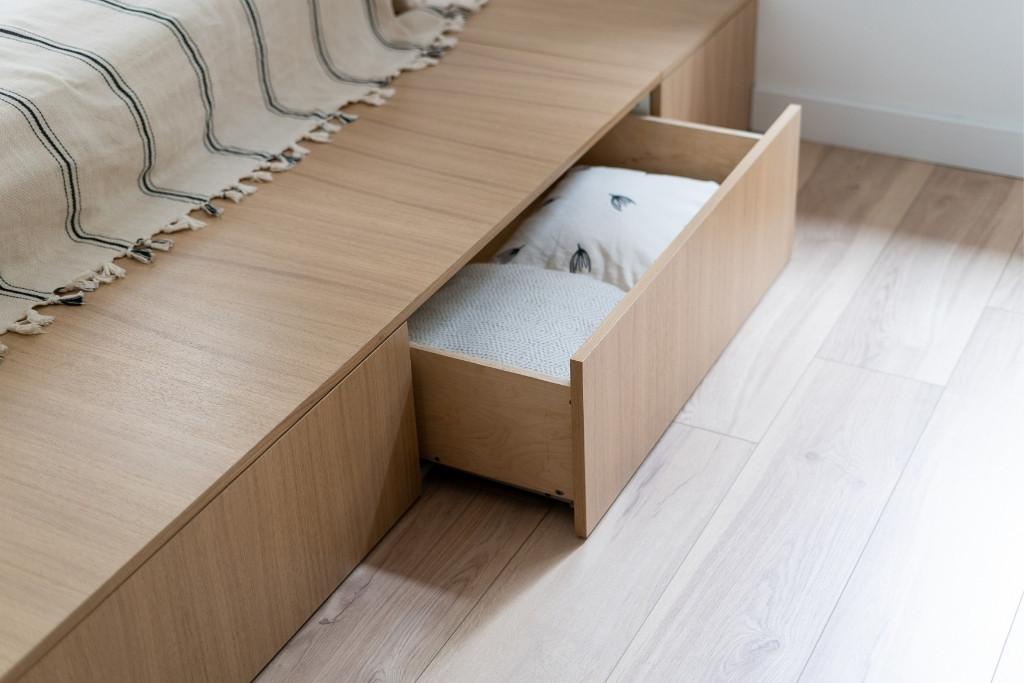 Bed With Storage
If you're not fond of having to fold your bed up and down every day, a bed with storage can be your perfect option. A bed with drawers underneath is suitable for rooms with more available floor space.
This cool addition on the traditional elevated bed provides storage for clothes, linens, and other bulky stuff you'd like to hide away but still have easy access to.
Staircase Drawer
Raising your built-in platform bed higher than its standard height means you'll need a small staircase with a few steps for easy access.
Instead of having just the plain stairs to step onto, you may integrate drawers on each step to provide additional storage. This hack is popular in small apartments and tiny houses alike due to the limited floor area.
Moreover, you may ask your carpenter to use soft-close sliders and to avoid handles that protrude the tread for safety.
Tall And Narrow Dresser
Dressers can be too bulky to fit in small rooms. Although it may give ample storage, it may also take up too much floor space, making your room seem cramped.
While considering dressers as a widely-available and efficient storage option, you may look for a tall and narrow one to maximize your room's vertical space.
One more small detail that can lessen a dresser's bulkiness is having long legs that raise it above the floor. This is another hack to make your space feel wider.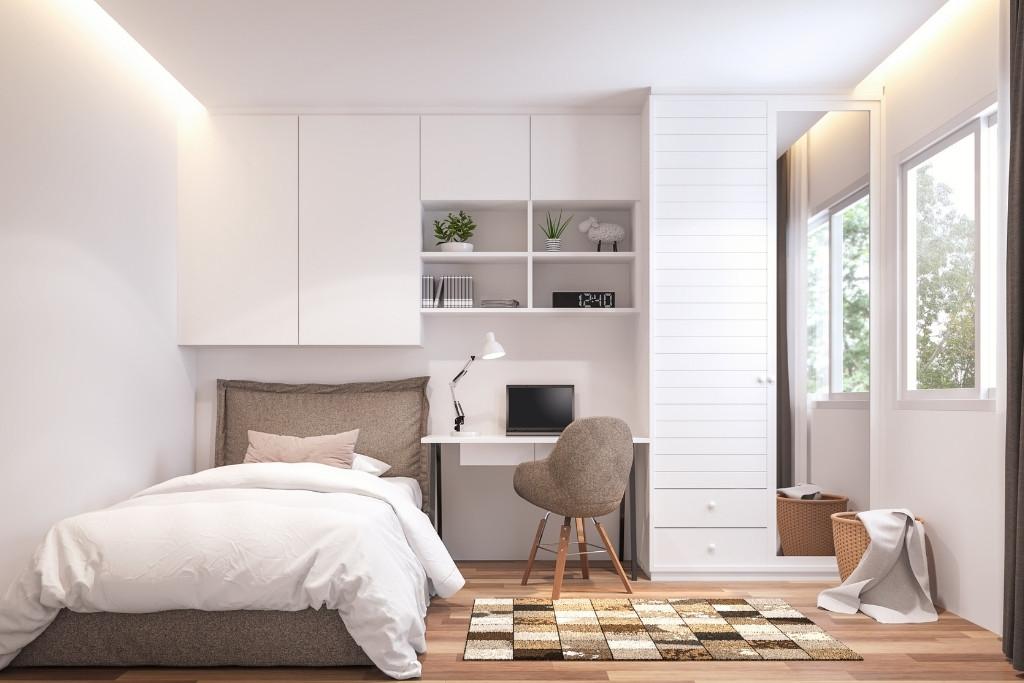 Wall-Mount Cabinets
Given that raising your furniture above the floor adds up to the spacious feel of the room, wall-mount cabinets are some of the common storage options you can depend on.
Hanging cabinets up to the ceiling takes full advantage of the room's vertical space. Due to its location, cabinets mounted up high are good for items you seldom use. You may place them above the bed, but make sure to leave adequate headspace.
On the other hand, cabinets mounted just a little above eye level make a reasonable storage space for items you often use. It's wise to place it just above your desk for easy access.
For items that you'd like to display, such as toys, trophies, and other collectibles, cabinets with glass doors would look cool and classy.
Flip Shoe Rack
Finding efficient storage for shoes is a must to keep your bedroom clutter-free. To prevent them from spreading dirt all over your room, keep them organized in a simple and accessible way by using a flip shoe rack.
A flip shoe rack will be a great, additional feature in your room. Depending on your room's available floor space, you can choose either the one that doubles as a bench with a cushion on top, or the simple and narrow one you can mount on the wall.
Unlike the common shoe cabinet, a flip shoe rack hides away your shoes while keeping them easy to grab when you're in a hurry.
Desk With Glass Top
One of the tricks to make your work desk seem 'invisible' is to have one with a glass top. It minimizes the clutter and takes less space than the common bulky desks.
A glass desk with a metal frame is one of the best furniture finds in the market. This would perfectly fit a wide range of room design ideas. It will look elegant, yet it can easily blend in with the existing features of your bedroom.
One more advantage of a glass desk is the prevention of molds that usually form underneath dark tables since light can freely pass through the tabletop to the bottom.
Built-In Wardrobe
Having a limited space for a free-standing wardrobe due to its standard depth brings you to the next best option, which is a built-in one.
The smart thing about built-in furniture is that it can be custom-made to fit the space available in your room. It can also be built to the full floor to ceiling height, maximizing every inch.
Another advantage of a built-in wardrobe is that you can integrate it into your bed or your desk. If you have a small room, that 40-50 centimeters of tiny space left at the foot of your bed can be ample room for a wardrobe with additional pull-out storage underneath.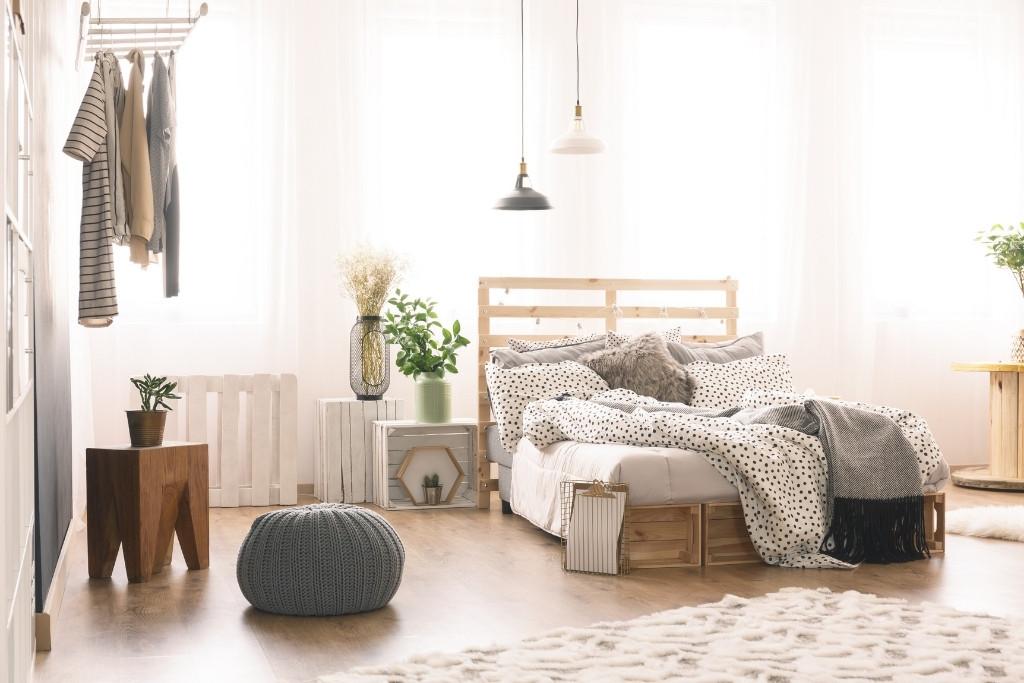 Floor Lamp With Table
These hybrid furniture pieces are excellent innovations for tight spaces, and one of those is floor lamps with tables.
A floor lamp with a table doubles as a nightstand. Conversely, you could place it beside the armchair in your reading nook.
On top of that, you may find ones with shelves underneath. This can be a good space to store the books or magazines you're reading at the moment.
Ensure that the lamp and table combination is well-constructed and stable. Look for a solid base and sturdy materials that can support the weight of the lamp and any items placed on the table.
Additionally, check if the lamp offers adjustable brightness settings to suit your lighting preferences.
Storage Bench
Storage benches are the simplest furniture to maximize your bedroom space. They can be made by putting together stackable cubbies with a lid and a cushion on top.
These benches can be placed at the foot of the bed or beside a window. Doing so gives you an additional sitting area, plus a space to store blankets, toys, board games, and other stuff you want to hide and organize.
To make the bench more comfortable, add a couple of throw pillows or stuffed toys and a blankie.
Conclusion
Together with an efficient layout, choosing suitable bedroom furniture will make every space and corner count, making your room one of the nicest places to come home to.