A friend of mine taught me this amazing way to make slow-cooked roast beef that is perfect for making hot or cold roast beef sandwiches.
And by "taught me", I mean I bugged him for the recipe after he served a plate of the most delicious roast beef sandwiches I had ever eaten during a neighborhood get together.
When he told me the recipe – or, really, complete lack thereof – I knew that I had to try it for myself.
So I immediately went to the store, bought a roast, and tried it out. And here are the results of that endeavor.
First off, he recommended using an eye of round roast for several reason.
Eye of Round is a boneless beef roast that looks like tenderloin, but it is very lean and therefore can often come out much tougher than other roasts. However, this leanness actually makes it perfect for sliced roast beef sandwiches, if cooked properly.
Plus, the eye of round roasts tends to be a cheaper cut of meat, particularly if you can find them on sale (Which I did! In case you haven't noticed this yeat, I'm all about the Frugal Living!).
---
Step 1 – Season the Roast
The first step is to properly season the roast. For my experiment, I used some of my favorite beef seasonings plus a little bit of margarine to help seal in the juices.
While you are preheating the often to 500° F (260° C), use softened butter or margarine and rub it liberally on the outside of the roast, season with your favorite spices such as Badia's Complete Seasoning, and then top with about 1 tablespoon of soy sauce.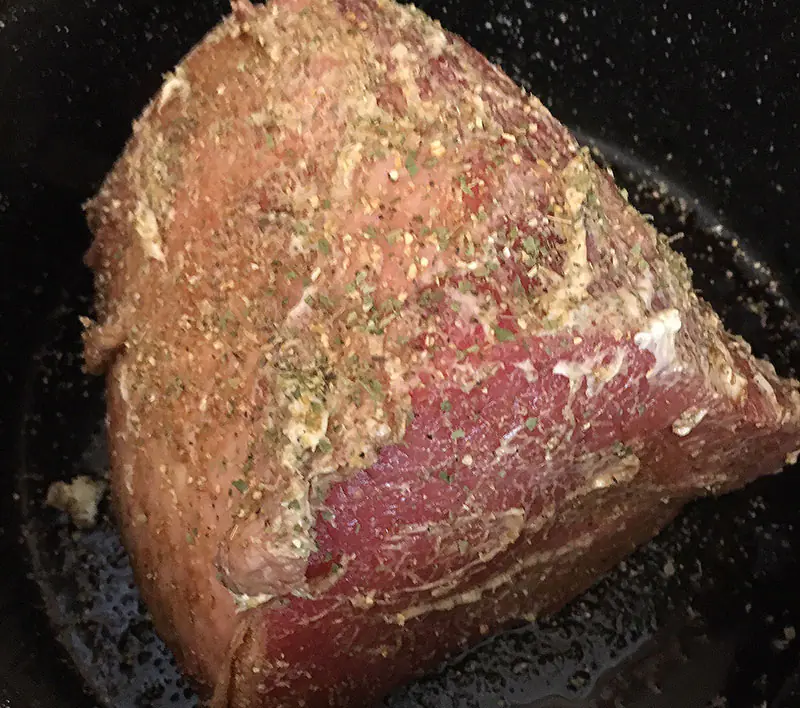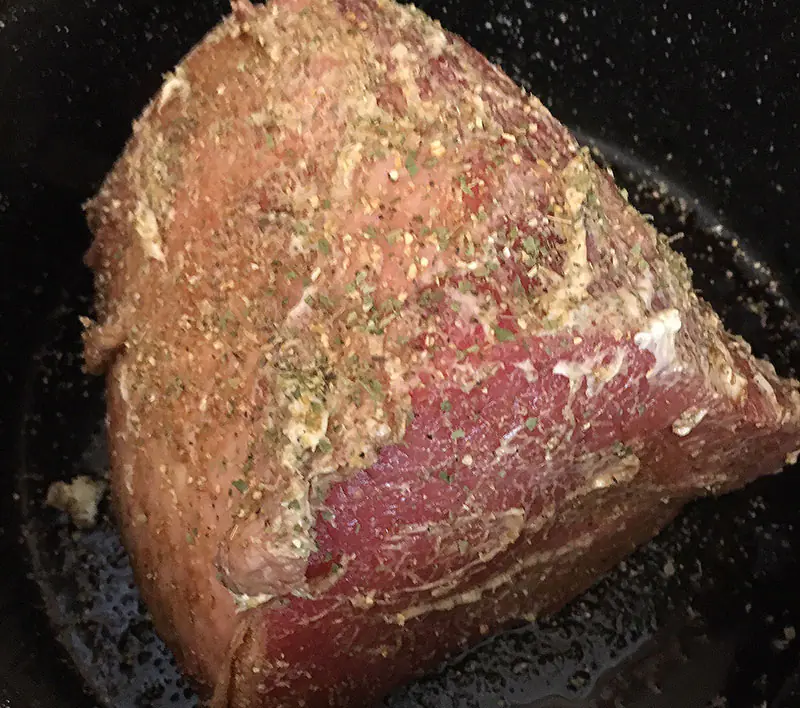 ---
Step 2 – Roast at 500° F for 20 Minutes, Then Let It Sit
Put the roast into a shallow roasting plan and place it in the oven for 20 minutes. This cooks the outside quickly, sealing in all of the juices.
Then turn off the oven but KEEP THE OVEN DOOR CLOSED for 4 – 5 hours. This lets the residual heat from the oven continue to cook the roast slowly. I repeat, do not open the oven door to check the roast during the cooking time, as that will release the heat too fast and mess with the cooking process.
The great thing is that this uses minimal electricity as well, because the oven is only on for 20 minutes, saving on your electricity bill.
And you can even cook it in the middle of summer because the oven doesn't stay at the hottest temperature for the whole time. Although – perhaps – not during any kind of heatwave because the oven does need to be on and nobody wants more heat during a heatwave!
When it's done, simply remove the roast from the oven. There's no need to let it rest further, as it has just been resting for several hours.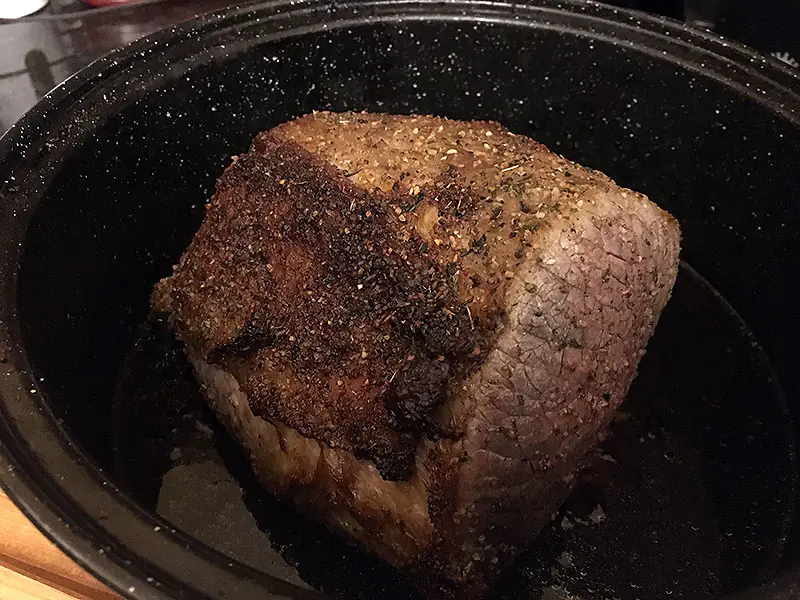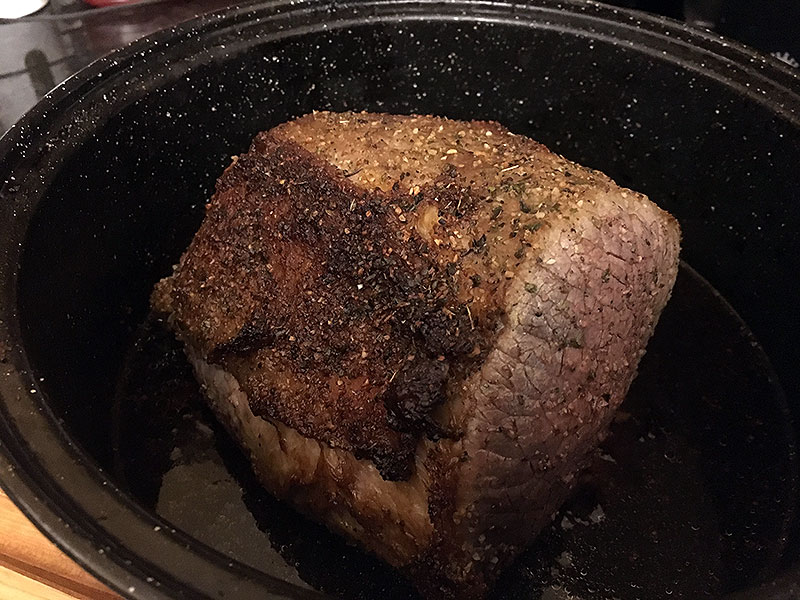 ---
Step 3 – Slice and Serve Your Delicious Roast Beef Sandwiches
All you have to do now is slice it up and serve it on your favorite bread. I personally love it on a French roll or on an onion bun from my local bakery… but the choice is completely up to you!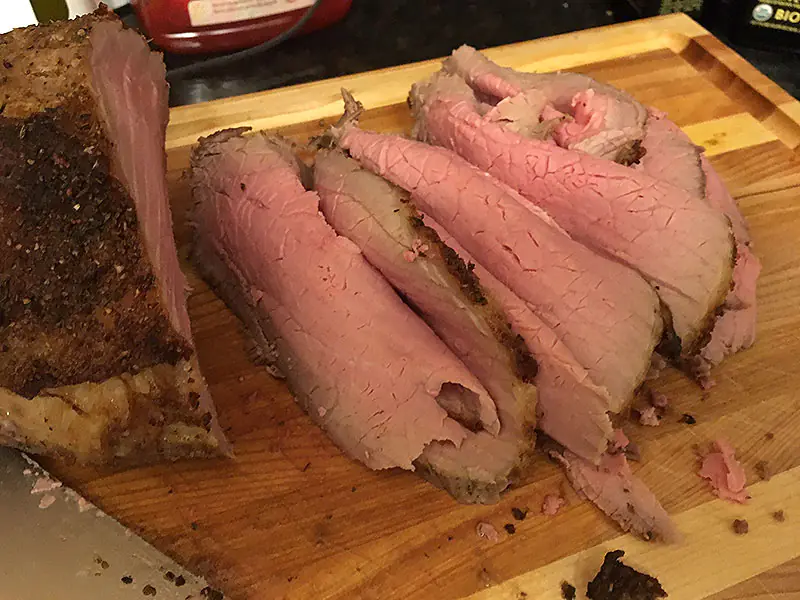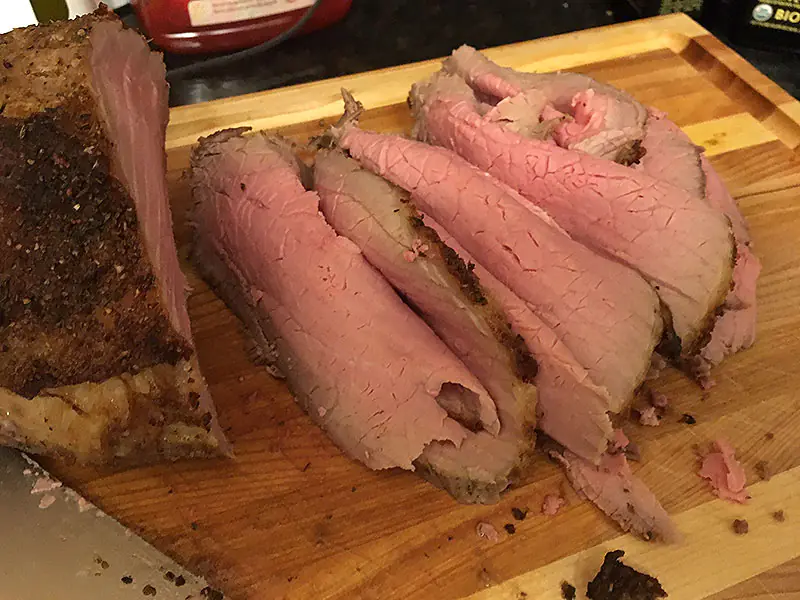 You'll want to slice it as thinly as possible. If you have a meat slicer (which I do not, unfortunately) this makes the task way faster and easier. Although I always find meat slicers take far too long to clean… so only use it if you have a large roast that needs slicing.
---
---
Then all you have to do is serve it up with whatever side dish and sauces you prefer.
At this point, the options are open. You can add some melted cheese, sautéed onions, BBQ sauce, horseradish, mustard… whatever your heart desires!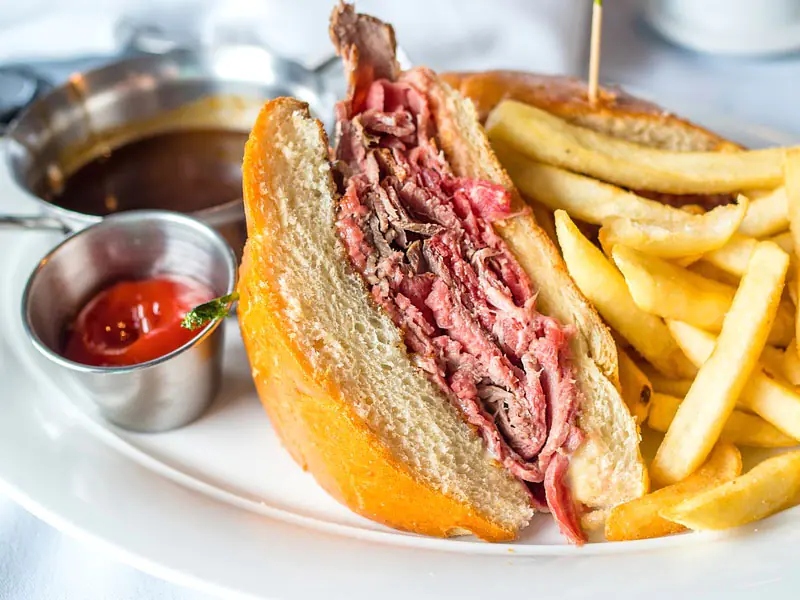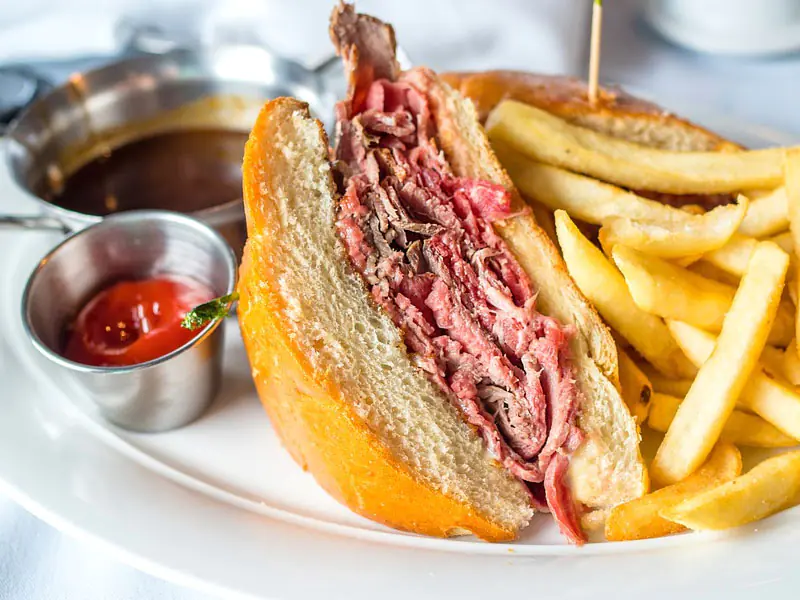 The beef is tender and juicy, and perfect for serving up to a hungry crowd. And – best of all – for less than $20 (if you get the roast on sale as I did), you have enough roast beef sandwiches to feed 10 – 12 people!
If you wish, you can use the juice at the bottom of the pan to make an Au Jus or gravy to go with your hot or cold sandwiches.
This dish is perfect for a hungry family or gathering of close friends for a casual but tasty meal!
And you'll probably have enough leftovers for lunches for at least a day or two, with far better roast beef than you could buy at the local grocery store.
---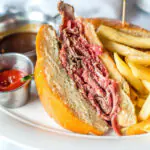 Print Recipe
Slow-Cooked Roast Beef Sandwiches
A super-easy way to make delicious and tender sliced roast beef for the perfect roast beef sandwiches. This is SO good, that nobody will ever know that you used a sub-part cut of meat!
Equipment
Roasting Pan

Meat Slicer (If Available)
Ingredients
3

Lbs

Eye of Round Oven Roast

1

Tbsp

Butter or Margarine

Softened

1

Tbsp

Badia Complete Seasoning

Or seasoning of your choice

1

Tbsp

Soy Sauce

10

Fresh Buns
Instructions
Preheat oven to 500° F (260° C)

Rub the roast with softened butter or margarine

Season with Badia Complete Seasoning (or seasoning of your choice)

Top with 1 Tbsp of Soy sauce

Place in preheated oven and bake for 20 minutes

Turn the oven off but leave the roast in the oven with the door closed for 4-5 hours

Remove from oven when done and slice
---