This floral fine art tapestry wall hanging features colorful flowers and Tuscan landscape.
Allayn Stevens has been painting for over 30 years and is a native of Colorado. Stevens has visited various countries in order to capture and communicate the distinctiveness of each location, seeking for inspiration throughout the world.
In Tuscany Floral, she shows us a lovely grouping of vases and teapots, each billowing with wispy wildflowers in bright, rich colors. The flowers rest on a table in an open window, shutters fully pulled back, overlooking the splendor of the Tuscan hills where the blooms have been freshly picked.
Our wall tapestry interpretation works wonderfully to bring this vision to textile perfection.
A tapestry wall hanging, like the woven fabric of our lives, is complex and beautiful. The combination of the threads and weave create a unique art experience that changes with each viewing angle.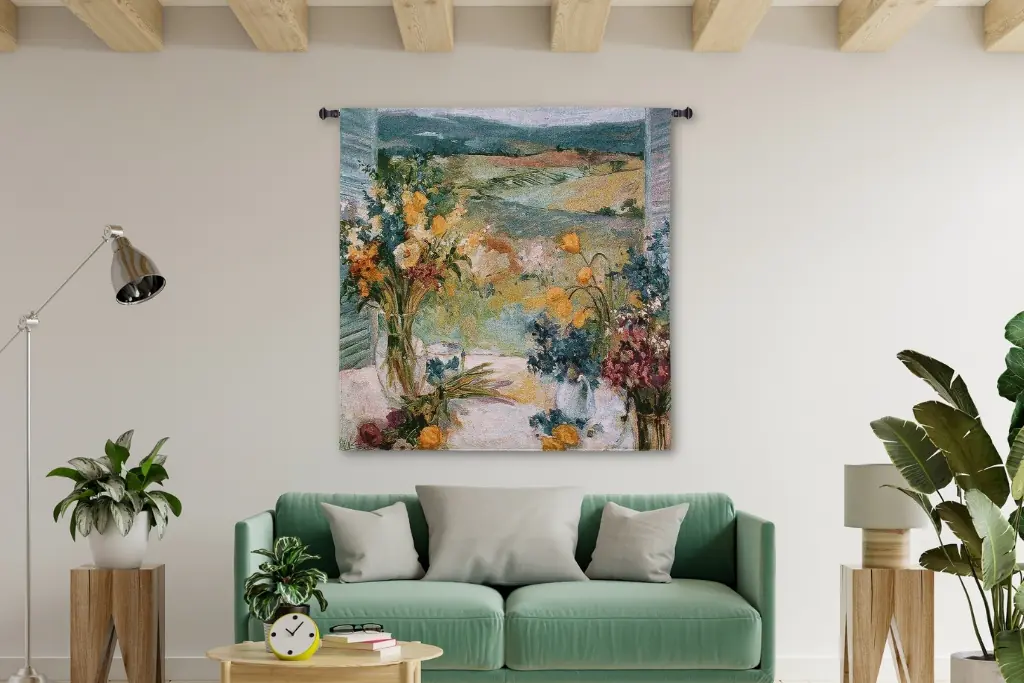 Allayn Stevens Tuscany Floral Tapestry Wall Hanging Features:
Size: 53 x 53
Jacquard-woven to craft outstanding color, exquisite detail, true depth, texture, and richness
Sound softening acoustic benefits
Hand-finished for extraordinary detail
Made in the USA
Rods, Finials, and/or Tassels shown are not included.
All tapestries are special order items. Most tapestry orders will ship within 3 – 5 business days of purchase, and arrive within 7 – 10 business days depending on the shipping method selected.
About Fine Art Tapestries:
Fine Art Tapestries are quality weavers with an attention to detail that can only be found in classic American-made products. All Fine Art Tapestries wall hangings are Jacquard-woven from 100% Cotton to create a style that provides outstanding color, extraordinary detail, true depth, texture, and richness
Before your brand new tapestry is shipped, it is hand-finished with a soft, solid cotton backing and a rod-pocket that makes your tapestry easy to hang.
Tapestry Wall Hanging Care and Maintenance:
Tapestry Wall Hangings are crafted to last for generations with very little maintenance other than occasional, light dusting. We do, however, recommend that you keep tapestries out of direct sunlight, as prolonged exposure can cause the tapestry fabric to fade over time.
For more than 10 years, our family has been proud to provide your family with a stunning collection of unique and wonderful home decor products. Just a few of the wonderful words of praise we've received from our customers:
"Pricing was excellent for the quality. I am very pleased."
"I love it!!!!! Prettier in person than in the picture."
Browse the entire Tapestry Wall Hanging collection.
Browse More Beautiful Floral Tapestry Wall Hangings
Home Decor Shopping at Art & Home
This striking piece is just one of the loads of delightful decor products that we have chosen to help you adorn your home.
To do this Art & Home has partnered with America's best retailers & manufacturers of fine furniture and home decor to bring you some of the most exquisite home decor collections available on the market today. Through this and other collaborations, Art & Home is uniquely qualified to provide you with access to scores of breathtaking home decor products and save you the time & inconvenience of browsing dozens of different retail websites.
From Framed Art to Armoires & Wardrobes to Unique Gifts, Art & Home concentrates on discovering the most exceptional furniture & decor so that you can create the home of your dreams. As a family-owned and operated company, Art & Home knows how important it is to love your home.
Purchasing from our retail partners is quick & trouble-free. Simply click on the Unlock Current Deal button above to see the comprehensive details, up-to-date pricing, and obtain a shipping estimate to your home.
We hope you enjoy exploring this magnificent collection as much as we enjoyed crafting it.
All the Best!
Art & Home
Read More from Art & Home
---