Having blinds in your home adds beauty, privacy, and light control in the room. In the market today, there are a ton of blinds that you could choose for your home. You could select from horizontal, vertical, rollers, Roman, and combi blinds. While horizontal blinds are the most popular, you might consider picking an alternative instead.  
Horizontal blinds can be a choice between vinyl and wooden blinds. However, you need to know as much as you can before making your choice. You could find in the end that the type of blinds you had in mind won't work for your home.  Here are a few things to consider when deciding which type of window covering suits your home and your lifestyle.
CLEANING TIME
Although I do like the crisp look of horizontal blinds, cleaning them can be a total pain! But when you have blinds, you can't escape the fact that you have to clean them as they almost act like a magnet for dust and other airborne particles. In order to maintain the aesthetic appeal, you need to clean them on a regular basis of any dust and dirt that has attached itself to your beautiful blinds. With a horizontal blind, expect it to be time-consuming when you get to clean it.  
A horizontal blind has a thin slat that's usually about an inch wide. When cleaning it, you should wipe each slat on both sides to ensure it's thoroughly cleaned. With that, expect it to be time-consuming, especially if you have a large blind.
LIGHT CONTROL
If you're looking for blinds that would give your room a full blackout experience, don't expect it with horizontal blinds as light usually sneaks peak in between the slats. While they can look amazing in your bedroom, you might want to consider a different type of blinds to give you the complete blackout experience. Or, like I have done, consider hanging curtains on the window as well so that you can close both the blinds AND the curtains if you want to completely darken the room.  
CONSIDER THE FIT
If you're using blinds on your sliding doors or windows, horizontal blinds can get in the way. You may choose to use a vertical blind instead so that the blinds slide along with the doors for a fuss-free opening.  
If you have oversized windows, horizontal blinds aren't often recommended as they usually have a maximum width of 240 cm, and hanging multiple sets of horizontal blinds can start to look messy.
Here are a few attractive alternatives to horizontal blinds:  
Roman Blinds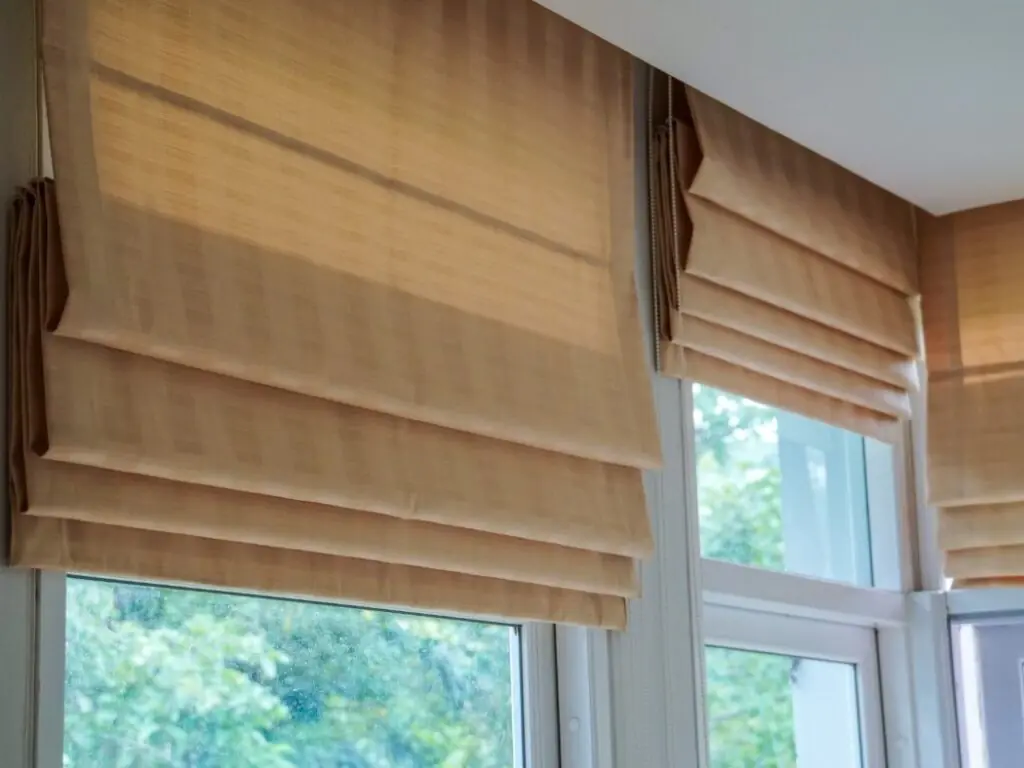 Roman blinds are a hybrid of blinds and curtains. They have the functionality of blinds, but are made of fabric, making them curtain-like.
Roman blinds are aesthetically pleasing and will add depth to the room, especially when you roll them upwards. There are different types of roman blinds that you could choose from, such as flat, relaxed, hobbled, rear tucked, banded, and scalloped. Here are things to expect with Roman blinds:
Provides a Classic Look – You'll get a classic look for your home that is timeless. On top of that, Roman blinds have a wide variety of fabrics that you could choose from to match your room. You can go for traditional, minimalist, country, or shabby chic, depending on your fabric of choice.
Allows Light Control – Roman blinds only allow for minimal light control by sliding up and down to let light come through. You can choose to go for a blackout fabric that'll be perfect in your bedrooms to block out any light from your window.
Increases Your Privacy – Because Roman blinds come with a thick fabric, it'll be hard for intruders to peep into your window.
Keeps Heat Away – If you hate the scorching heat that comes into your room during the summer, Roman blinds will help keep it away. As mentioned earlier, Roman blinds come with thick fabrics which help to block out the heat, allowing you a cold room.
Additionally, you can choose to create your own roman blinds with a piece of fabric to add a personal touch to the room. 
Roller Blinds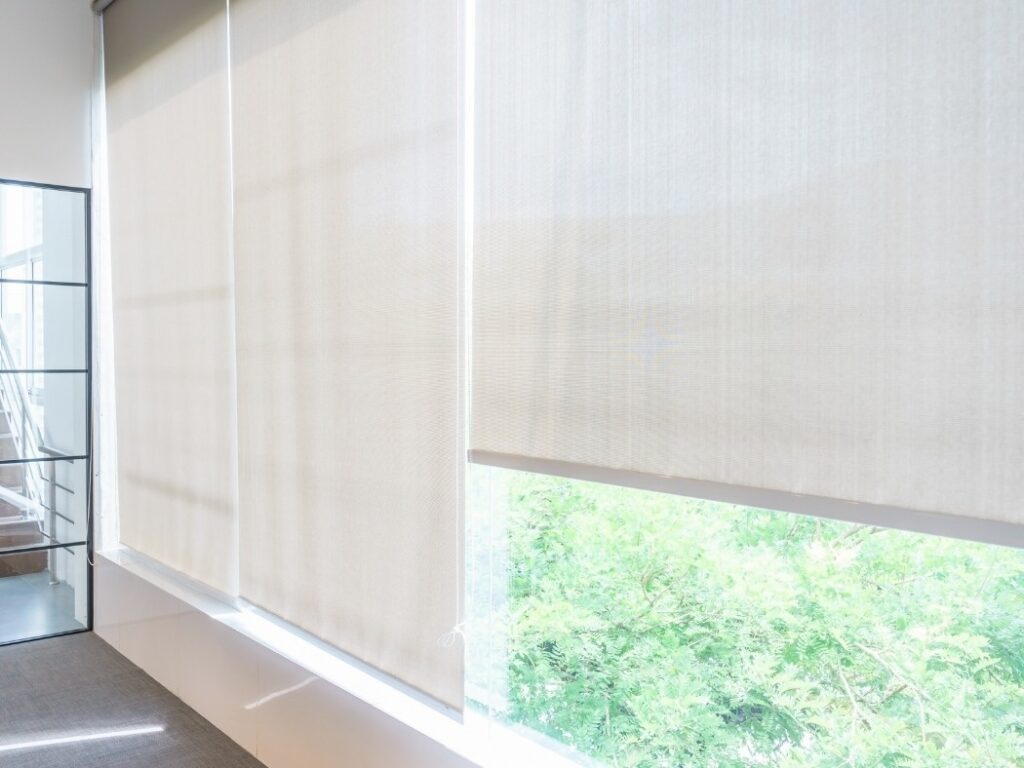 Roller blinds have the same mechanism as Roman blinds, but they don't fold up when pushed up.  Because of the fabric, you don't have to worry about gaps between the slats. Roller blinds smoothly glide up. Here are other things Roman blinds are good for: 
Minimalist Design – Mostly, roller blinds offer a minimalist design because of the straight fabric. It also gives off a professional look, making it an excellent choice for your study.
Complete Blackout – With a roller blind, the fabric is usually placed near the window glass, which offers total blackout, especially at night. Along with this, roller blinds provide privacy as there'll be no space for people to peep through from without.
Ideal for Large Windows – If you're too worried about the bracket being too short, roller blinds have a link bracket system which allows for two roller blinds to join together, minimizing the gaps in between.
Easy to Clean – The ease of cleaning for roller blinds is astounding. You don't have to worry about any slats or folds. You can simply wipe them with a clean damp cloth as these don't gather much dust. Alternatively, you can use a vacuum cleaner for thorough cleaning.
Reduces Outside Noise – Roller blinds are effective in reducing outside noise. You can finally work uninterrupted and sleep peacefully with roller blinds.
Given that a roller blind has a minimalist design, modern times call for a modern look. You can choose to pump up the room's appearance slightly by having a printed roller blinds to add more dimension and vibrance.
Vertical Blinds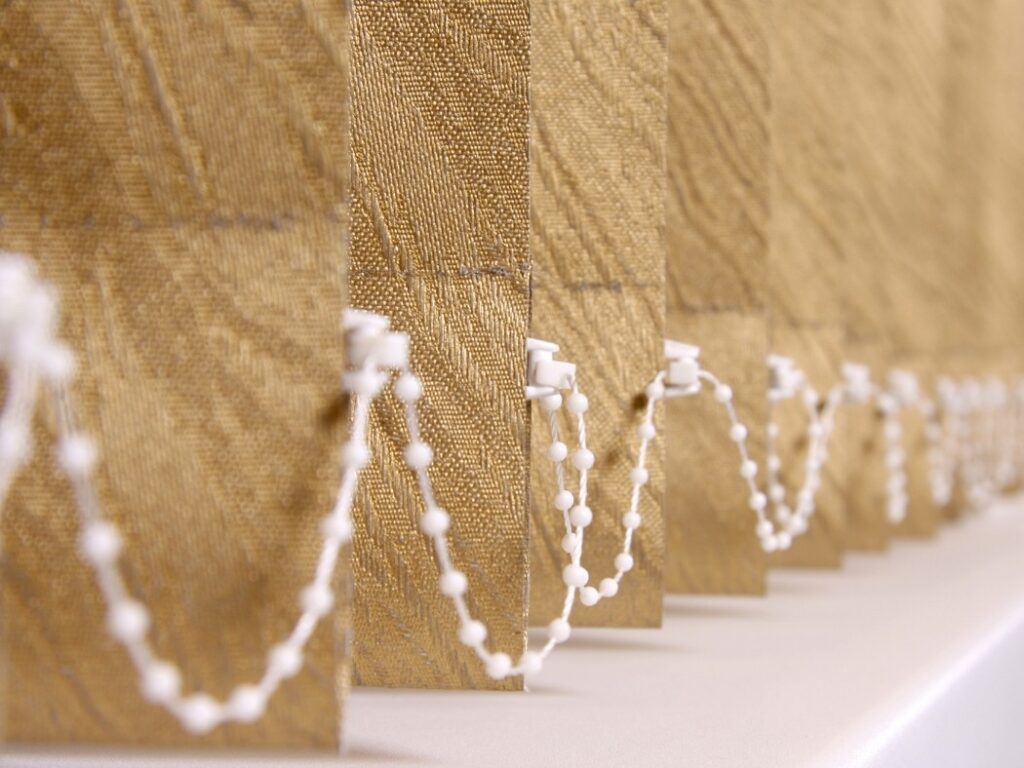 Vertical blinds are another alternative to horizontal blinds, although they have become somewhat dated these days. Vertical blinds have the same slats as horizontal blinds but arranged vertically – hence the name. The slats of vertical blinds can have a width from one to three inches, making them wider than horizontal blinds. The other advantages of vertical blinds are:  
A Classic Look – Some call them dated, others call them classic. When hung properly and with some additional flair, vertical blinds can be very attractive in a room. They also do a very nice job of making a room feel taller and more spacious.
Flexible Uses – Vertical blinds are great for your study as they provide a classic and professional look.  
Great for Sliding Doors and Oversized Windows – If you're adding blinds to a sliding door or oversized window, you may want to opt for blinds that provide the same mechanism as a sliding door. With a vertical blind, you can easily slide the blinds away to one side to allow for a better view.  
Fluid Light Control – Similar to horizontal blinds, you can adjust the amount of light that passes to the room for more even illumination. You don't have to worry about light coming in patches.  
With vertical blinds, you can have a great set of blinds in your home that's easier to clean because of the wider slats. Make sure that your blinds match your room interior for a posh look.  Who knows, maybe they'll make a comeback?
Day and Night Blinds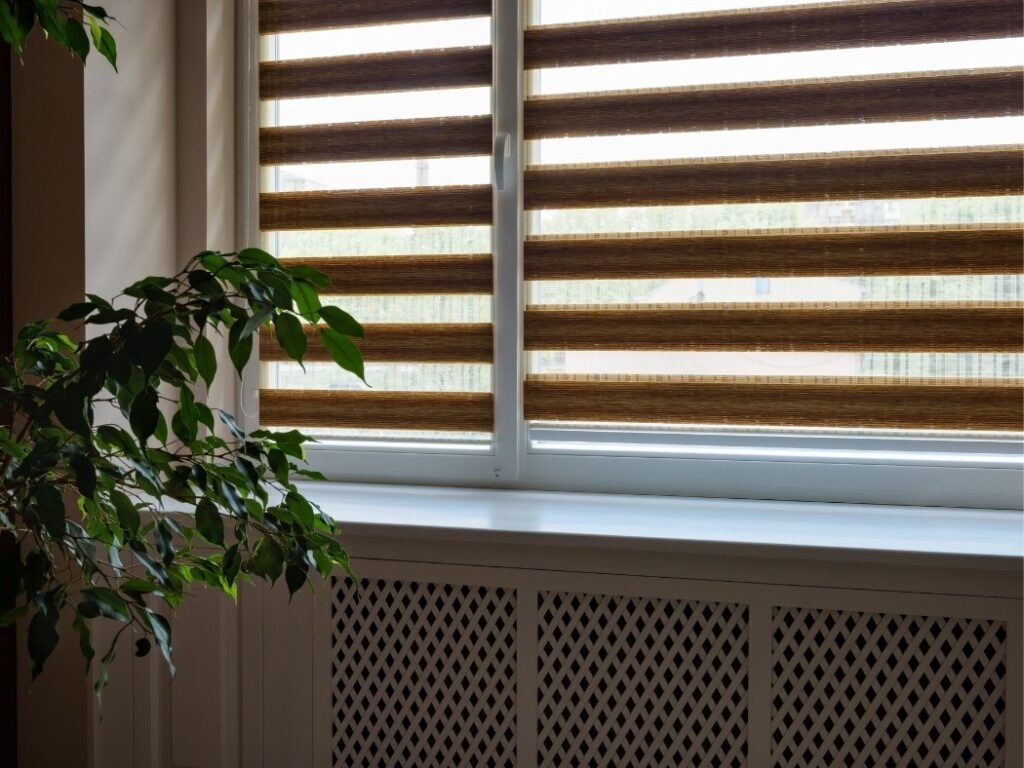 Day and night blinds provide light control similar to horizontal blinds, but without the hassle of cleaning every inch of the slats. Day and night blinds have a standard alternating solid and sheer fabric that allows you to play with the colors passing through your room. Here are the other features:
Flexible Light Control – Day and night blinds have a similar mechanism to a roller blind, only that these include two layers of fabrics that are solid and sheer. You can easily roll them up for full brightness, or you can have the blinds open slightly for just the right amount of light.
Creates a Modern Look – Day and night blinds provide a modern look to any room. They usually come with one to three colors to choose from that should add vibrance to the room. However, there are limited style options with day and night blinds, and they usually come in basic or light stripes.
Day and night blinds are perfect if you want to play with lights in a room. You could even add wall art to complete the look of the room, making it captivating.
If you just love how the horizontal blinds work for you, but tired of the maintenance requirements, day and night blinds should do the trick. You can quickly wipe them clean.  
Conclusion of Our Blind Study  
If you're looking for an upgrade with your window treatment's appearance and you'd like to reduce the amount of dust that your horizontal blinds collect, there are a lot of alternative blind options that you can choose for your home.  
When picking from among the alternatives above, make sure that your choice addresses your requirements. It should also match the aesthetics of your room superbly too.