The versatility of ottoman coffee tables is one of the reasons that they are such a popular choice for today's living rooms.
It's not that often that you can find one piece of furniture that can serve multiple purposes (a beautiful Daybed is another example), but ottoman coffee tables provide both a comfortable and elegant seating solution as well as a place to put important things… such as your cup of morning coffee.
Ottoman coffee tables come in two distinct types:
Integrated Ottoman Coffee Tables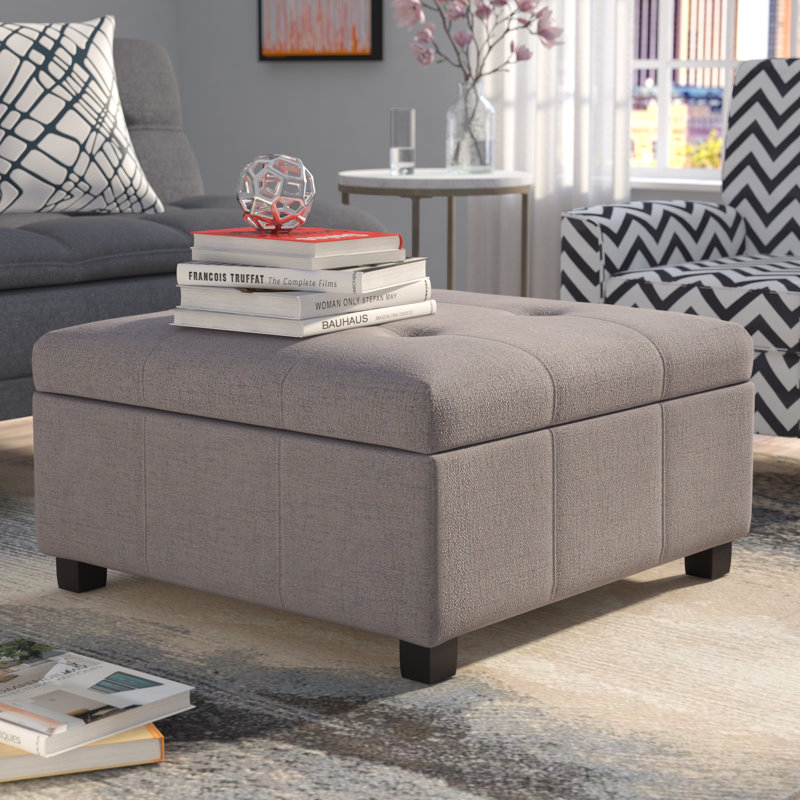 Image: Ernestine 35″ Tufted Square Storage Ottoman
These are singular furniture pieces that serve the dual function of being a coffee table and an ottoman. Constructed in such a way that they are both comfortable to rest upon (whether it be your feet or your tush that your resting), but also sturdy and stable enough to place a tray for serving coffee or cocktails.
Usually what sets an ottoman coffee table apart from a normal coffee table is the cushioned and upholstered top, although often using less cushioning than you would see with a traditional ottoman… mainly because it needs to maintain a level of firmness required to serve the dual purpose of a coffee table.
Shop Ottoman Coffee Tables
Please note that Art & Home has an affiliate relationship with some of the merchants listed below and we may receive a small referral fee – at no cost to you – for any purchases that you make utilizing the links provided. We use those funds to continue building Art & Home's unique collection of home decor articles and inspiration. And, you know, to buy stuff.
Whichever style you choose, these coffee table ottomans are unique enough and functional enough to become a focal point in any home.
These unique ottoman coffee tables are only a small part of Art & Home's curated Coffee & Cocktail Tables collection. We've worked with some of today's leading manufacturers and retailers of beautiful furniture to bring you this extensive selection.
We hope you enjoyed browsing this collection of ottoman coffee tables as much as we enjoyed putting it together!